Our Innovation Workshop classes are designed in-house to integrate design thinking, and to teach children to create, persevere, and communicate successfully. Here is what our students learn.
Parents and school staff participate in buying student's products or experiences with "Workshop money." Students can use their profits to buy items from their co-worker's company.
Three Workshop Education inventions were selected to be one of the 154 inventions featured out of 10,000 plus inventions in the 2017 Inventor's Challenge for the Imagination Foundation. These inventions were created during our Inventor's Challenge classes during Innovation Workshop.
Mia Ferdinand (4th grade), of Farallone View, brainstormed new solutions to transportation problems. As Mia presents her Neodymium Hoverboard Invention, you can see the confidence and skills children gain from daily presentations held at the end of each Innovation class.
Keira Klemmick, a kindergartner at Woodside Elementary, showed caring for dogs and attention to recycling with her Dog Toy Invention! Way to go, Keira!
Roy Cloud Workshop students Elizabeth von Bleichert (4th), Charlotte Kriese (6th), and Charlotte Wicks (K) worked as a team on a concept for helping children with homework. 
These students created their own recess materials by recycling what they had in their classroom's recycling bin. Here they are enjoying the jump rope that they created during Innovation design thinking class.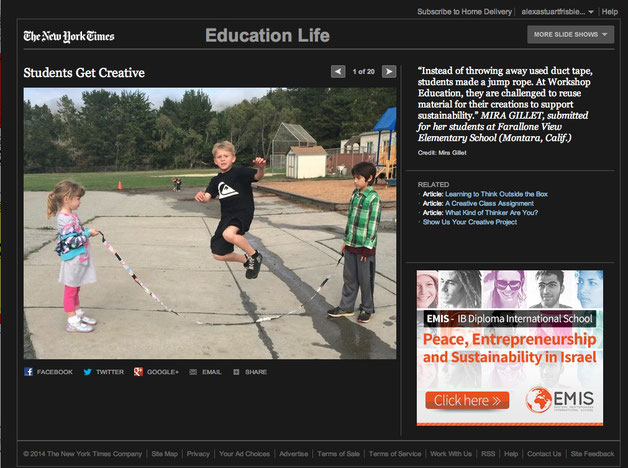 We had a student who came into Workshop saying he didn't like science. After just one hour and a half visit from one of the  Stanford scientists learning about work on invisibility cloaks, the student declared that he now loved science. And he wants to go to Stanford. What a difference "real life" learning can make.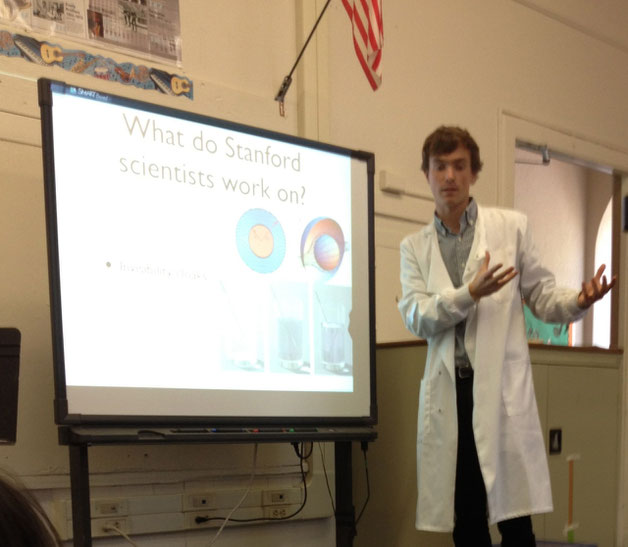 Debbie Sterling, a Stanford graduate, creates award winning construction toys for girls with her company Goldiblox. Our Workshop students tested and gave her feedback to improve an early prototype of one of her products which went on to be a best seller. It is one thing to say that design thinking is an effective way to create new solutions and that engineering can be an amazing career for women. We don't have to say it when all students experience it first hand. This is what we mean when we say, "Education for Life." Experiences like this opens children's eyes to all sorts of possibilities.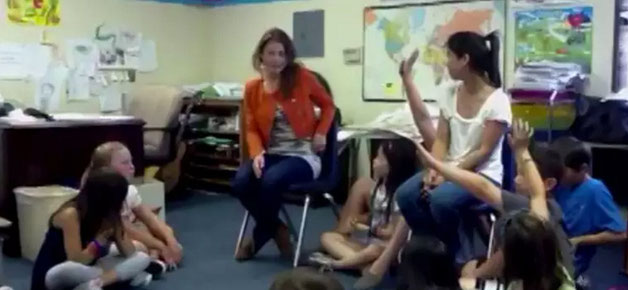 Presentations take place at the end of each Innovation Workshop enrichment class either with finished or in-progress projects.
Here are the top three way it will change your child's life:
#1 - Embracing Public Speaking
Children who are used to presenting in front of their peers frequently build a huge comfort with presenting in front of people. As an adult, I have seen friends reap the benefits of being willing to speak in public. I have seen others hampered by their fear of doing so in a variety of professions. Our students will have the confidence to do so. We also hear frequently that student's participation in class during the school day goes up noticeable after attending Workshop. We think this is a combination of constantly asking them for their learning reflections coupled with presentation time. 
#2 - Noting Strengths First
Children have to navigate two things as part of presentations. The listeners at presentations have to learn to give very specific strengths before giving suggestions. The instinct to notice and point out strengths in work environments is much appreciated. The first thing I learned in my first job editing textbooks was to teach the author what they did well and why. This always proceeded suggestions! This also teaches children to learn and play to their strengths.
#3 - Phrasing Suggestions Positively
The presenter then has to graciously field questions and consider suggestions diplomatically - another huge life and work skill, when done well. We spend a great deal of time modeling and supporting how to positively phrase suggestions, and how to graciously consider them! 
These three skills are somewhat invisible yet powerful social skills that help you feel you have a contributing voice in your life and professions. We explicitly teach and practice them until they become second nature - education for life.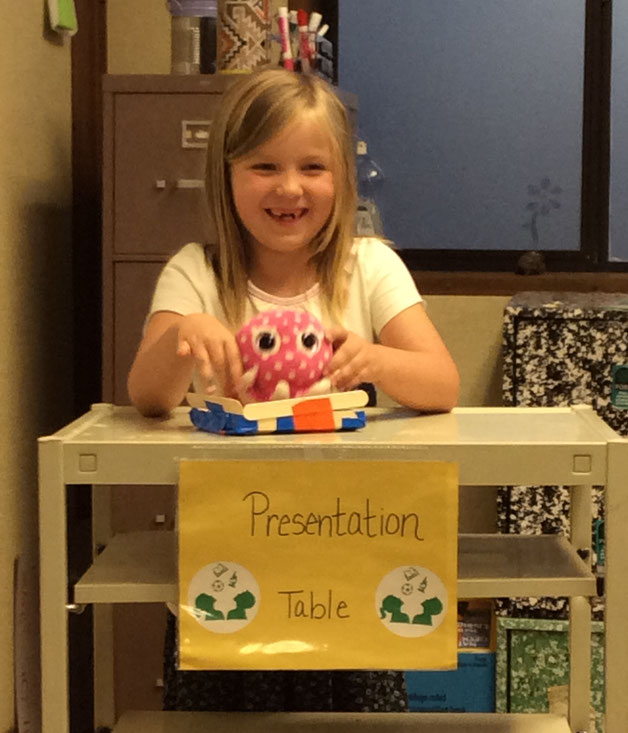 The design challenge for an Innovation class was, "How can I make my mom's life less stressful?"  Here is one boy's plan to propose to his mom. He says if this doesn't work, he will redesign the plan. Part of the design process is building empathy, and we love that we see it here. And as one parent said, and many others have echoed, "The children learn things they don't necessarily learn during their regular school day." As a former teacher, I am very aware of what I thought students needed to be happy and successful, that I didn't have time to teach!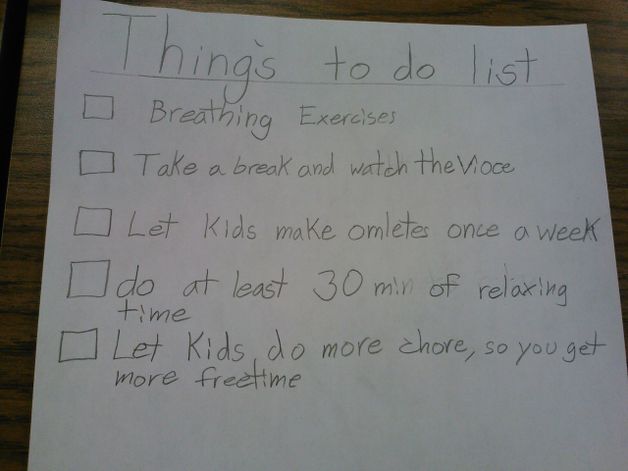 These children work to create products to help those who are blind. Building prototypes strengthens resilience as it is not as easy as it looks. Our students learn patience for detail to keep refining ideas.
At Workshop, we do not make projects "cookie cutter." We expect children to struggle through them. This day, we were building kites, and this child put 5o holes and 50 strings. The kite collapsed. He began subtracting strings, coping with frustration on each failed flight. When he presented his kite at the end of the day, the student said, "If you build a kite, you only need 4 strings! "This was so hard, but it was worth it," he beamed. Children need to learn to pick themselves up from setbacks and move on. It is why Stanford started a resiliency center. Students used to clear cut paths to success were blown away by more complicated challenges. We see our Workshop children will have the resiliency muscle in spades!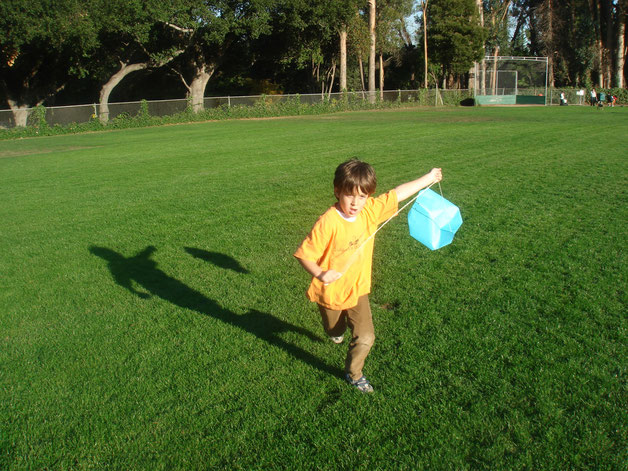 These students provide their answer with creations from Innovation Workshop.
These students show what happens when you have 1) a set time for creating, and 2) a learning community that supports creativity and unique talents.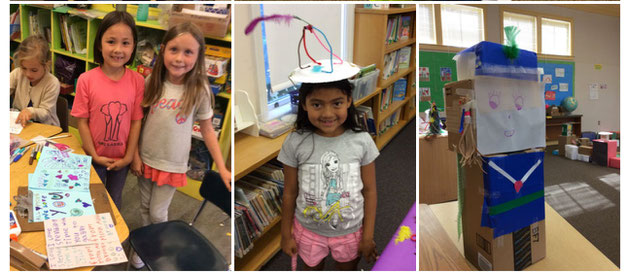 Last week in Innovation Workshop enrichment classes, we designed and created a class coloring book. Each class decided who to share the coloring books with - most choosing a hospital where sick children might want to use them to relax.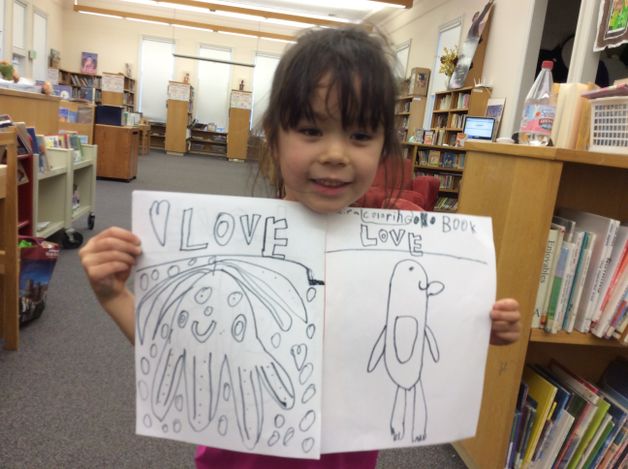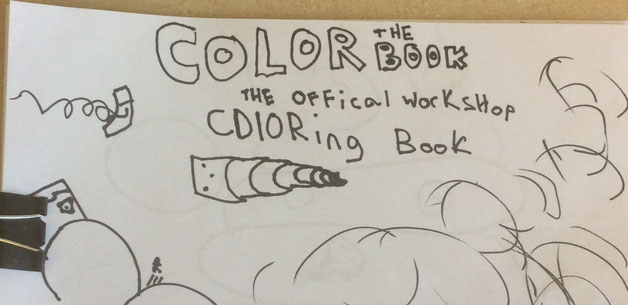 In our Innovation Workshop enrichment classes, students at all of the eight Workshop locations tackled the same design challenge - how to best welcome new students to Workshop classes. Students remembered their first day to gain empathy. They brainstormed, created prototypes, and got feedback from their class for their ideas. The students will be testing their ideas on new students.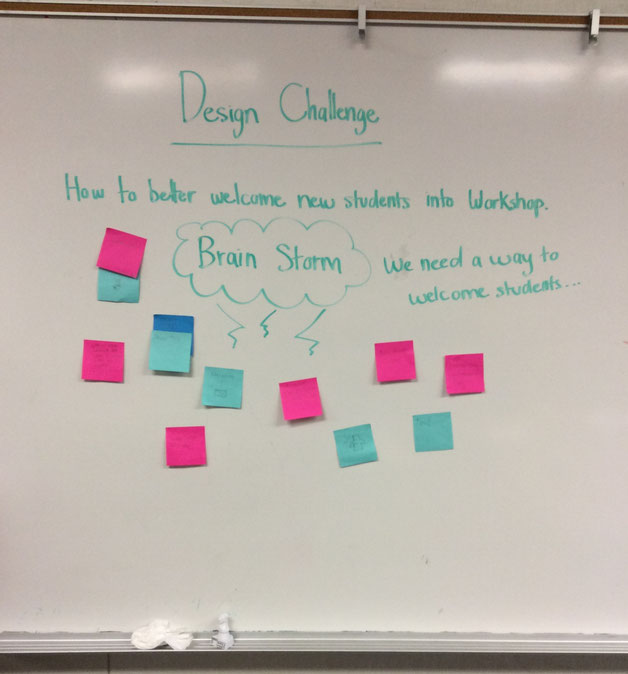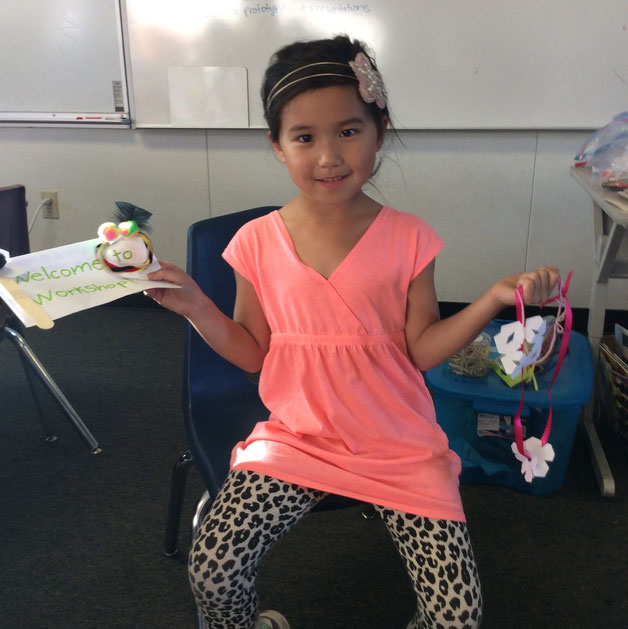 This past week in our Innovation enrichment classes was special as students worked on Writer's Workshop, which was the philosophical inspiration for Workshop Education. Students got the chance to build the muscle of creativity by facing blank pages and turning them into books. They shared their books at Featured Authors, and heard what their classmates felt were strengths, as well as questions and suggestions about their work.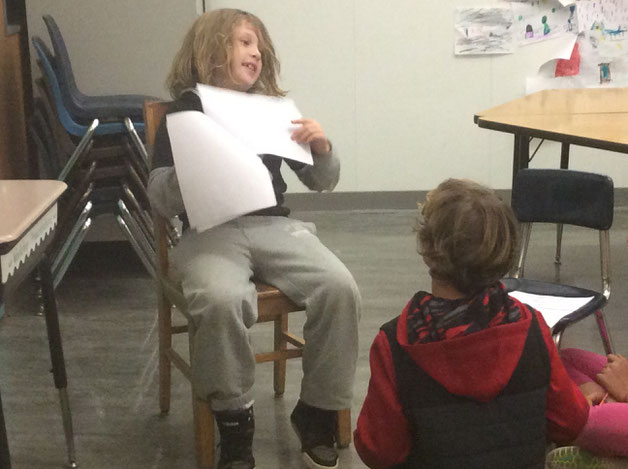 In Innovation Workshop enrichment classes this past week, children created their own dough. The challenge? No recipe, just ingredients. We want students to experiment and observe the results carefully to figure out the impact of each ingredient. We believe experimenting really means designing and testing - not just following step by step instructions. Students learned to create workable dough by trial and error and create something unique from it - working on 3D spatial skills in the process.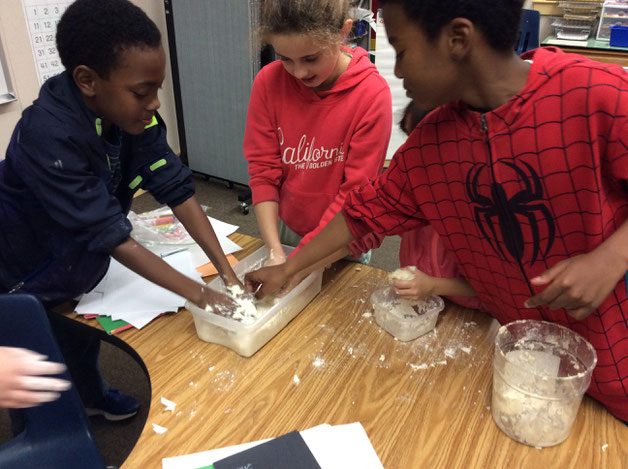 My Company is an annual unit, so children often plan their next company throughout the year. Children begin by brainstorming ideas for their company. Companies can produce products or experiences. Children must also form teams and figure out who does what for the company. 
Children develop one prototype of their experience or product and get feedback from classmates and parent visitors. We believe in frequent public speaking experiences. We want Workshop student to grow up being comfortable with public speaking and handling feedback diplomatically. Some years we have older students pitch for investors in their company, trading a percentage of the company for a certain investment amount to purchase supplies.
Now comes the hard part, manufacturing or improving your "experience." The My Company Day deadline helps keep everyone working to produce enough products to sell. 
Finally comes the big day! My Company Day! Parents and visitors come in and use our Workshop money to shop. Every year, across all of the schools, each team is full of pride and excitement. We reflect in our teams and with the students on ways to improve and ideas to try for the following year. My Company is a great example of our units that let each child's talents and interests grow.
Here is a note from a parent after . . . 
I just wanted to say thank you so much for organizing the My Company Day. It was by far the best event our son has done and he was so proud of his accomplishment, so are we.  Thanks again for the support and encouragement for the students, as always.

Last week, I walked into South for My Company Day, and talked to this boy about his company, called Book Play. He was selling books called Games. He is 5 years old. During the course of this visit, I interviewed him and asked him what was the hardest part of creating his company. He said, "The words".  When I looked at the books he was selling, I realized what he meant. 
He had created all of the words to his book. The teachers had copied every word he said and then typed them up for him, so there could be multiple copies. Do you know how much perseverance he had to have to think of each direction, and how much patience and caring his teachers had to capture all of his words? 
He had thought of everything. For basketball, he noted: "First, you get a ball that bounces. You get a basketball court." So, how could I not love this job, when I have the honor of being with such tenacious learners, and the most caring teachers I have ever worked with. 
I see this potent combination of sparked learners and teachers as champions of students across all the Workshop Education classes at eight locations, and feel very proud of our students and teachers.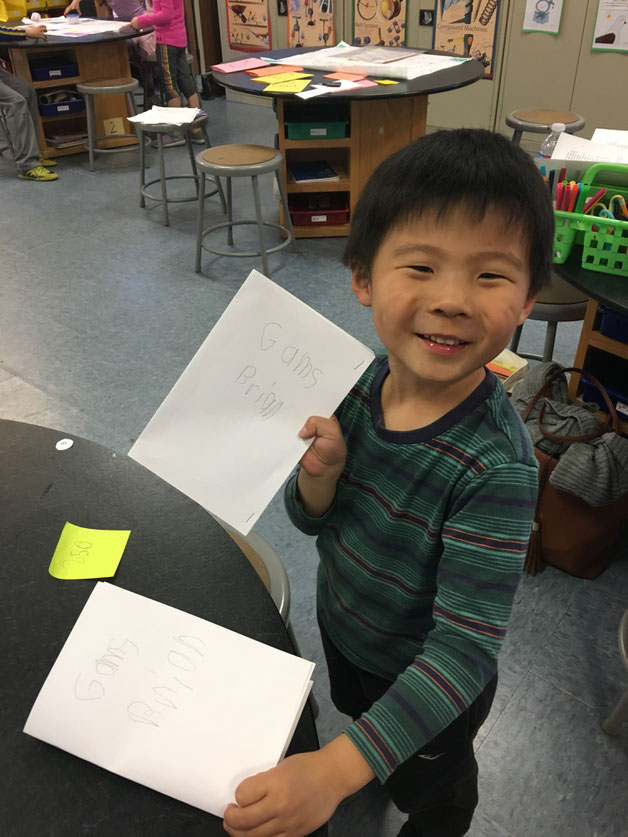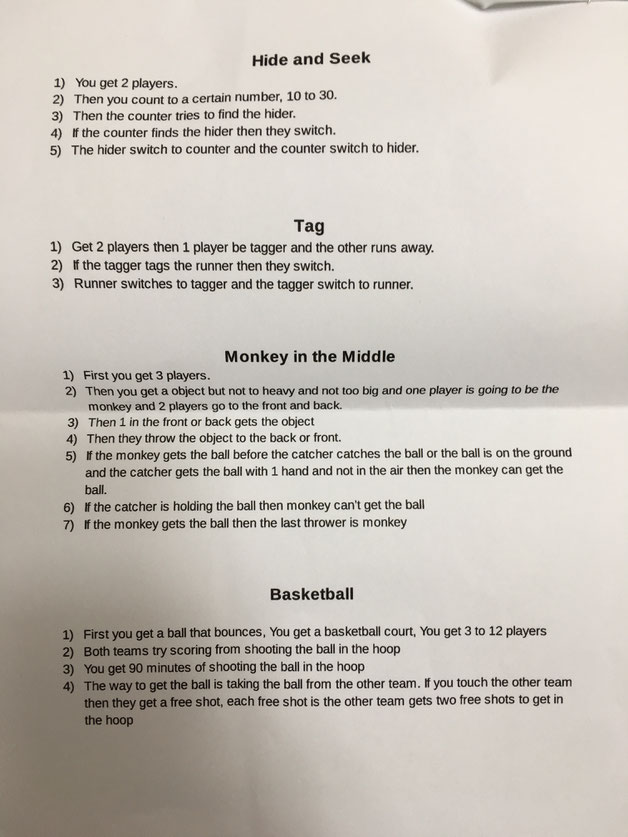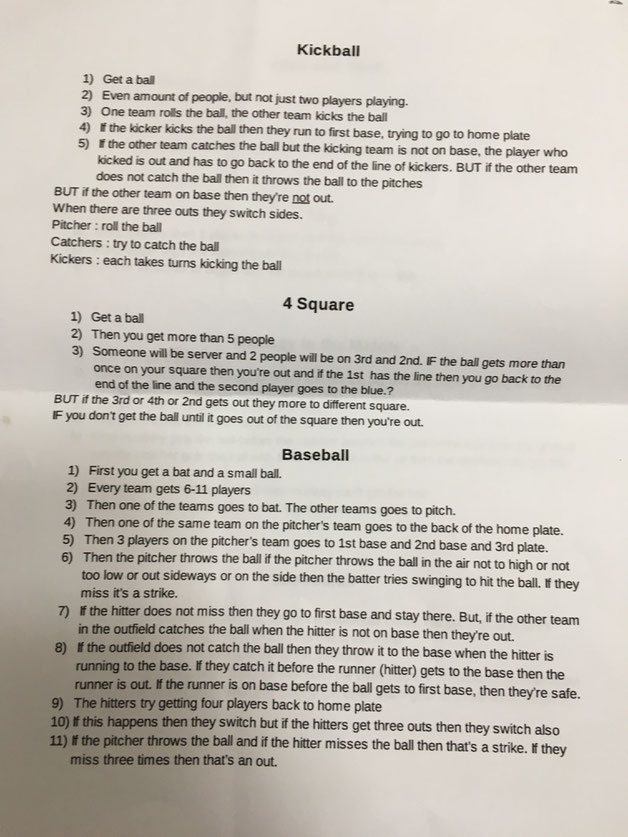 Here is an example of what happens when you ask the three most important questions:
What do you notice?
Why do you think it is like that?
Are you sure - how could you be more sure?
The original goal was to design the best wand for creating the largest bubble. But since the child is being asked to observe and theorize, it becomes about more than that. The child is actively making new discoveries based on observations. The most important part is how he revises his theory based on a new observation. 
By asking these questions, this becomes a unit that is about much more than just creating bubbles. It becomes a unit about designing experiments to learn, and adapting your ideas based on new information. 
Watch this 11 second discovery followed by a 44 second discovery! 
We write new curriculum each year, and the possibilities for your child are endless.